When we talk about Mexico I think I can say that we are talking about something that goes far beyond the normal meaning we attach to "vacation", conceived solely as an idea of the sea and the beach. El Mexico is much more: a journey through the sights of a vanished civilization, but still very present in the lives of Mexicans and all the tourists who come each year to visit the coastline … a charm undoubtedly never vanished!
Playa del Carmen, Puerto Vallarta, Cozumel, Cancun and Cabo San Lucas are the classic destinations for a beach holiday in Mexico characterized by clear blue sea, white stretches of sand and a beautiful coral reef, but they are not the only ones. This wonderful country holds within its waters also of the less famous beaches that will, however, the ability to enchant you from the first glance.
Ideal destination for those looking for the sea and the beaches of "postcard", but also the charm of past civilizations: a perfect combination of relaxation style holiday and the cultural … this is Mexico. Let us see together a list of more or less known destinations which might be for you to strike up a project for a next trip.
Mayan Beach – Tulum
Photo: BORIS G
Mayan Beach is just what I mentioned earlier: the charm of the picturesque Mayan ruins overlooking the sand. It is considered one of the most beautiful beaches in the Americas, so that the New York Times has included it in its top ten best beaches. Its reef is also the second largest in the world, so it's definitely a great destination for snorkelers.
Tulum in the Mayan language means wall, this is because the city is one of the few with a wall they built. Easy to reach through a staircase, this beach is located just below the Mayan ruins, so if you decide to visit the archaeological site of Tulum, you should bring the necessary for the beach, and enjoy the wonderful panorama that you can offer.
Playa Del Amor – Cabo San Lucas
Photo: Luis Noel
This beach, one of the most famous in the area, is located south of Cabo San Lucas and is easily accessible by sea from its marina. His name speaks for itself: Playa del Amor is a hidden gem, ideal for a beautiful day to experience the romance. It is so named because here come together the waters of the Sea of Cortes and the Pacific Ocean, creating a sort of poetic complicity.
Ideal for snorkeling, if you're lucky you may encounter even in sea lions, then if you are super lucky, you might even be able to spot some whales off committed to making big jumps into the sea. Walking on the beach holding hands with your loved one, expressing a desire that is in your heart, it is customary in his cave…
Mahahual, Costa Maya – Quintana Roo
Photo: Julieta Bonazza
A Mahahual seems that time has stood still: unlike other resorts of the Riviera Maya, which, because of the constant flow of tourists in recent years have had to adapt to a kind of "modernity", this small fishing village keeps intact its authenticity …
Dirt roads, few hotels and restaurants that keep all strictly still a rustic atmosphere make Mahahual, I still think unfortunately for a few years, a true small "Mexican world" all the discover. But Mahaulal can offer even more: an enviable marine life due to its proximity with Banco Chincorro, a coral atoll in the impressive biodiversity, not for nothing is called the "coral bank" oldest and longest in all of Mexico. Get ready, then, to swim between sponges, sea turtles, dolphins, sea horses, manatees and thousands of fish, a true living aquarium that you can hardly forget.
Laguna Bacalar – Quintana Roo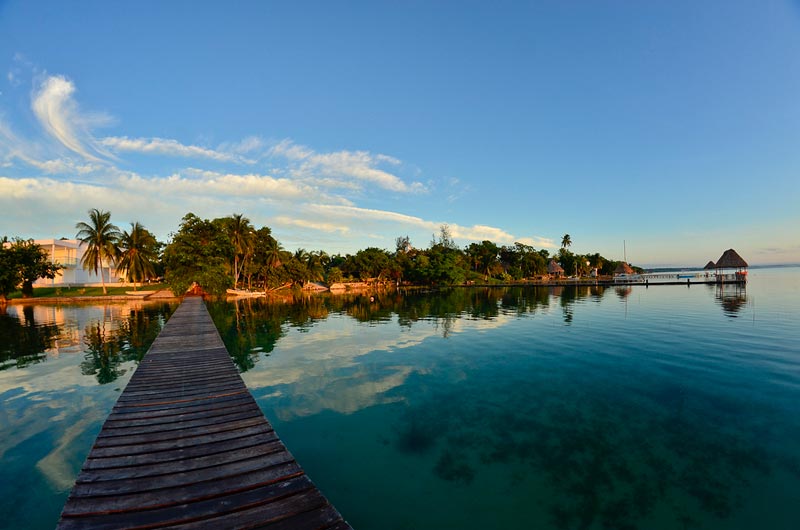 Photo: Sergi Hill
A special mention goes to Laguna Bacalar, an expanse of water that surrounds the town of the country, about 40 km from Chetumal. This natural paradise, still pristine in some aspects, it was inhabited by the Maya as early as 200 BC In their language, it means Bacalar surrounded by reeds.
The Mayans called it the lake of seven colors, and indeed the show that comes to your eyes is extraordinary: it is definitely the only lake in the world where you will have the feeling of being at sea, thanks to its amazing colors … I think that, like all rarities, his visit would be a must see on your trip!
Playa Delfines – Cancun
Photo: Leobardo Martinez
If you are tired of the usual crowded beaches around Cancun, Playa Delfines then it is for you. Just a few kilometers from Cancun on the Kukulkan Boulevard to the airport, Playa Delfines is a must for walks on the beach. It has the advantage of not being in front of the big hotels, and this makes it very coveted because in Cancun, I assure you, find a free beach is really a business … Free absolutely all: no kiosks, street vendors few, very few sunbeds and umbrellas, no music: it is the ideal beach for those who want to experience a day in absolute tranquility. Few tourists and many Mexicans … who could ask for better!
Paradise Beach – Cozumel
Photo: Andres Pascal
A few kilometers from the archaeological site of Tulum, you can spend the day lounging on one of the most beautiful beaches in the area include Paradise Beach. Accessible from Playa del Carmen in about 35 minutes, this beach has it all: many marine activities and fantastic water games, equipped for families with relaxation areas shaded by large palm trees Caribbean, music, shopping facilities and even a huge pool which invites you to bathe in the most sweltering days.
Almost mandatory stop for cruise ships, Cozumel Island and its beautiful beach can offer you a full day of fun, a real enchanting escape from the static nature of the cruise ship. The entrance has a cost of about $ 2.
Balandra Beach – La Paz
Photo: sonouna
Hot water, white sand and silence, here Balandra Beach! Just 12 kilometers from downtown La Paz, Balandra Beach is the perfect beach, a stretch of sand of a flawless white with a sea of incredible turquoise. Surrounded by desert vegetation and surrounded by dunes and cactus, it offers a lunar landscape, enriched by a local wildlife that seems not to be afraid of anything (especially the pelicans). The water is shallow and calm for several meters, thus ideal for long walks. To fully enjoy its beauty, you will soon head to the morning and rented a kayak to explore the little bays that surround it, will not be disappointed.
Playa Escondida – Islas Marietas
Photo: Vallarta Adventures
A small chest that contains a treasure, this are the Islas Marietas. The Marietas Islands are made up of an archipelago with two islands and two islets, since 1997 declared a protected natural area by the Secretariat of Environment and Natural Resources of Mexico (SEMARNAT). This beautiful place is home to over 150 species of exotic birds like the Blue-footed Booby, colorful fish, turtles, manta rays, whales and humpback whales, who come here every year to spend the winter and propose a show out of the ordinary at all tourists.
In this paradise you will find Playa Escondida, a tourist destination that can only be reached by boat at a 15 minute trip from Punta Mita or 55 minutes from Puerto Vallarta. The beautiful white sand beach and the end is hidden within a natural rock formation which can only be accessed by swimming through a tunnel 20 meters long. The tour to visit is organized exclusively by the tourism companies holding a special permit that the Mexican Government relies only a few structures. This limitation was adopted precisely to protect the natural habitat that has been created, a must see…
Chileno Beach – Cabo San Lucas
Photo: TrishN
While most tourists flock on Medano Beach, the majority of the premises, as good connoisseurs, attends Chileno Beach and, moreover, for a very good reason: the beach is classified as one of the cleanest parts of Mexico!
Located between San Jose del Cabo and Cabo San Lucas Chileno Beach is a great place to snorkel: myriads of fish will surround you and you will not know which way to turn your gaze. Also suitable only for swimming, the beach is equipped with disabled access, lifeguards and showers, is, however, without a bar. If you come during whale season, take some 'time to hold your head underwater and hear their song … a real melody.
Playa De Xcacel – Riviera Maya
Photo: Antonio Cristerna
Among the various beaches found in the Riviera Maya, if you want to see a "natural" beach with an easy day trip from Playa del Carmen, then head down to Playa De Xcacel you will not be disappointed!
The entrance fee varies between 10 and 20 pesos, but no matter since it is used to help preserve this little uncontaminated territory and support those working to protect the turtles that come to nest here. We really hope that here the mass tourism never come! This is a true beach without bars and equipment, but with bathrooms and showers.
A few kilometers from the beach, with a narrow path and many iguanas who will accompany you, you can reach a small cenote where, between low and crystal clear water, you will enjoy a great massage to your feet thanks to the myriad of fish that surround you… a real fish therapy!
Playa Norte – Isla Mujeres
Photo: athos menghini
If you want to spend a holiday on a small island, far from stress, confusion and noise, Isla Mujeres is the ideal place for you. Located off the coast of Cancun, it covers an area of 8 miles long. It is a typical tropical paradise with palm trees, white sand and clear water.
The crystal clear water that invites you to be always in the bathroom and the white beaches are the best business card of Playa Norte. Ranked by TripAdvisor site as one of the 25 most beautiful beaches in the world, this beautiful fine sandy beach with its turquoise sea he has caught the attention of thousands of tourists from all parts of the world. Many of them have also had the good fortune to attend its fantastic sunsets, when the sun seems to suddenly disappear in the sea … a sight not to be missed.
Playa de Akumal – Akumal
Photo: Roberto Faccenda
In the heart of the Riviera Maya, 37 kilometers from Playa del Carmen, Akumal is one of the best places to visit in the Mexican Caribbean with its wide variety of beaches and tourist services. The beach has fine sand and very equipped: you will have the possibility to rent kayaks, windsurfing, fishing, rent bicycles for trips, and of course the infinity of diving centers scattered everywhere who will rent any type of diving equipment. Akumal in the Mayan language means land of the turtles and still is one of the few places in the world where you can meet many of these specimens which nest from June to November.
With its underground rivers and its freshwater caves, the Akumal beach turns out to be a paradise for snorkelers and for this reason, in fact, one of its biggest attractions is certainly the Yal-Ku Lagoon (also called the crystal cave), a small shallow lagoon where submerged rock formations create a fascinating underwater terrain, ideal habitat for colorful and exotic marine creatures that will make your day of fun-filled visitors and satisfaction. Last curiosity always on the beach, has set up the Ecological Center, a center for environmental education whose entrance is completely free.
Playa La Ropa – Zihuatanejo
Photo: Miguel Arzola
The Zihuatanejo Bay includes within it five beaches, the most famous is precisely Playa La Ropa. It's about a five minute drive from the city and, with its mild waves, it is also perfect for those who are not experienced swimmers. Playa La Ropa is a clean beach thanks to the many people who daily collect all possible residues of the day before; this is certainly a great value for a public beach and makes you want to do the same …
Known for the presence of many beach restaurants offering dinners by candlelight, this beach is the perfect place to make long walks waiting to see its famous sunset. If you like the idea of the old Mexico with all the comforts of our time this is the beach for you!
What more of this fabulous land … if you want to immerse yourself in a beautiful sea, but you are also lovers of the charm of past civilizations and curious to see the evidence that we have left, undoubtedly Mexico is the country that suits you: sun, sea, but also lots and lots of culture!
Comments
comments